Update: Felony Cruelty Bill Passes Legislature; Signed Into Law
The 2019 session of the Arizona Legislature provided a long, hard-fought victory for the felony animal cruelty bill. After four years of failed attempts, a measure to strengthen penalties for egregious animal cruelty passed the Legislature and was signed by Governor Ducey. HB2671 was sponsored by Rep John Kavanagh, who sponsored previous versions of the bill. The new law, which became effective on August 9th, protects pets, families, and communities throughout Arizona. Read more
Humane Voters of Arizona and its partners in the Humane Legislation Coalition of Arizona* in partnership with Maricopa County Attorney Bill Montgomery, worked to develop a bill that strengthens penalties against convicted animal abusers. Violent crimes against family pets are often part of a larger pattern of domestic violence; but as you may be aware, current Arizona law only allows even the most heinous crimes be charged at the lowest felony designation – felony 6. This bill would make killing or torturing animals a felony 5.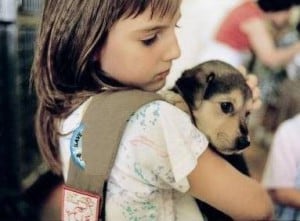 SB 1295, animal cruelty; domestic animals; classification, sponsored by Senator John Kavanagh, makes it a class 5 felony to intentionally or knowingly subject a domestic animal to cruel mistreatment, or to intentionally or knowingly kill a domestic animal without either legal privilege or consent of the domestic animal's owner or handler.
UPDATE: The bill recently passed the Arizona State Senate and is now headed to the House of Representatives. Thank you to each of you who took action last week and contacted your Senator asking them to vote yes on SB 1295. Your actions are making an impact! Also, a special thanks to Senator John Kavanagh for sponsoring the bill. You can find out how your Senator voted here.
There is still work to be done, and we will keep you updated on how you can help.
Read or download SB 1295 Fact Sheet
Media Reports on SB 1295
Senate passes harsher penalty for animal cruelty
Senate Panel OKs Harsher Penalties for Animal Abuse
Arizona has harsher penalty for killing livestock than a pet; bill seeks to change that
*Humane Legislative Coalition of Arizona (HLCA) is comprised of Animal Defense League of Arizona, Arizona Humane Society, Humane Society of Southern Arizona, and Humane Voters of Arizona. HLCA's government consultant is Brian Tassinari with Willetta Partners