Pet Protection Bill Passes Legislature and Signed into Law!
HB2671 passed the AZ Legislature and was signed into law by Governor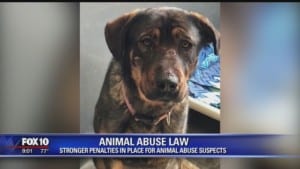 Ducey. This new law will prevent the most egregious cases of animal abuse from being reduced to misdemeanors. No longer will abusers be able to kill or torture a family pet and end up with zero jail time and no court supervised probation or treatment. The law will help protect not only pets, but families and communities throughout Arizona. Read more
Pet Protection Bill Passes Senate
Victory! Thanks to your support, HB2671, the bill that strengthens penalties for heinous pet abuse, passed the Arizona Senate today by a 20-9-1 vote! Please thank your senator if he/she voted 'yes' House in the coming weeks. You helped rescue this important legislation. We will need your voice again for the House vote and will keep you updated. Learn more here.
It's time to stop protecting pet abusers – we need you to take action TODAY!
It's Time to Stop Protecting Pet Abusers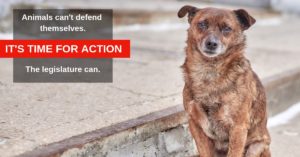 Despite overwhelming public support, the Arizona Legislature has refused to move responsible legislation that would strengthen penalties & treatment opportunities for severe animal abuse cases – some ending in slow, painful deaths for animals.
We are running out of time to get a new bill moving and we need your help.
Learn more