Pet Protection Bill Passes Senate
Victory! Thanks to your support, HB2671, the bill that strengthens penalties for heinous pet abuse, passed the Arizona Senate today by a 20-9-1 vote! Please thank your senator if he/she voted 'yes' House in the coming weeks. You helped rescue this important legislation. We will need your voice again for the House vote and will keep you updated. Learn more here.
It's Time to Stop Protecting Pet Abusers
It's time to stop protecting pet abusers – we need you to take action TODAY!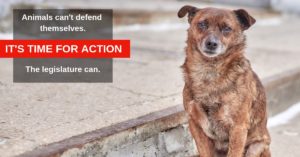 Despite overwhelming public support, the Arizona Legislature has refused to move responsible legislation that would strengthen penalties & treatment opportunities for severe animal abuse cases – some ending in slow, painful deaths for animals.
We are running out of time to get a new bill moving and we need your help.
Learn more