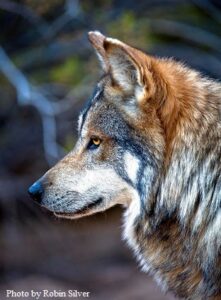 We need your help to stop a bill in the Arizona Legislature aimed at endangered Mexican gray wolves. HB2181 S/E: game and fish; taking wolves (Cook), forbids the Arizona Game & Fish Commission from prohibiting anyone from killing a wolf that is actively threatening or attacking a person, livestock or other domestic animal. People can already kill wolves if they are threatened — which almost never happens — but allowing endangered wolves to be killed for preying on livestock or other animals should be soundly rejected.
Mexican gray wolves once ranged in the thousands throughout the Southwest and northern Mexico but were nearly driven to extinction by an extermination effort carried out by the government. Over 20 years after being reintroduced in Arizona and New Mexico, Mexican wolves still face many challenges. Since they were first introduced, more than 100 wolves have been killed illegally and most of the individuals responsible have not been identified or prosecuted. The provisions in this bill all but ensure that there will be more of these unlawful killings of endangered wolves in the wild. The legislature should be sending messages about how coexist with endangered Mexican wolves, not pushing bills that seek to further vilify wolves and promote killing them.
WHAT YOU CAN DO
HB2181 passed the Arizona House of Representatives and was transferred to the Senate. Please ask your senator to vote 'no' on HB2181. Let them know we should be coexisting with endangered Mexican wolves, not pushing bills that promote killing them. Be sure to mention that you are a resident of their district.
You can contact your Arizona Senate members here. If you're not sure what legislative district you reside in click here. Please let us know about any response you receive from your legislators. Email us at legislative@humanevotersaz.org.